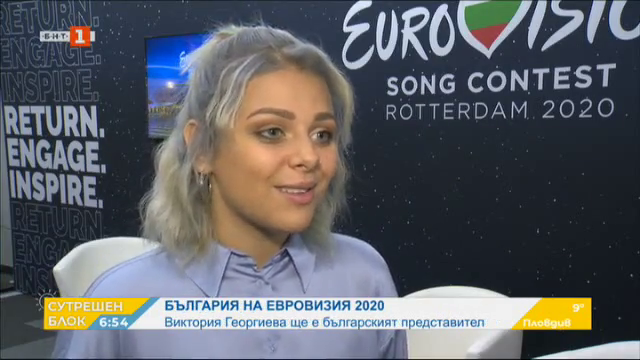 Bulgaria will participate in the Eurovision Song Contest in 2020. Victoria Georgieva on November 26 told the BNT's breakfast show that she felt very happy, and even cried with joy when she realized she would be the Bulgarian representative in the contest. "I am looking forward to this moment. For me, this is a great responsibility and a big step forward in my career and my life", she said.
I was advised to stay calm and enjoy what is happening, because sometimes because of the tension you can't see the nice side, because your mind is occupied thinking 'God, it is so scary', the stage is so big, so many people look at you, you just have to accept it positively, Victoria said.
She added that she had many ideas about the song. According to her, it should have a very strong message, to touch people's hearts.
John Sanders from Osterio company said his job was to find the right song.
John Sanders, Osterio: We are very confident. We will go to music camps in Sofia and London, where the best producers and songwriters participate, and so we will find the right song. It is a great responsibility for this young woman, but she has an amazing voice and is also very organized and motivated. We will look at different styles, but I know what she is looking for.