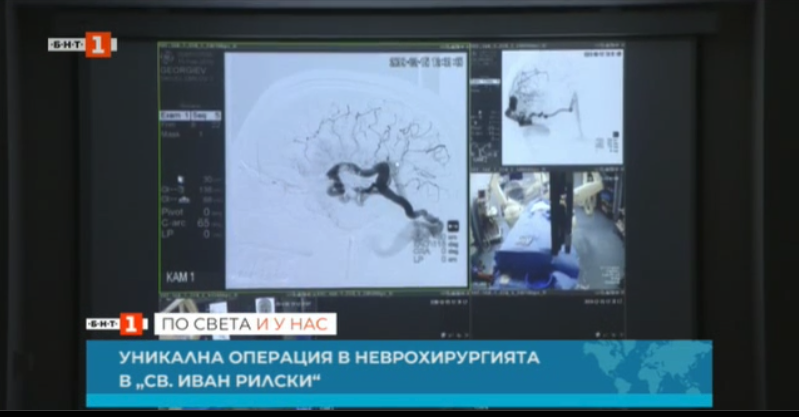 Unique brain surgery was performed at "St. Ivan Rilski" Hospital in Sofia. The world-renowned neurosurgeon Professor Sharbel Monaie from France and his Bulgarian colleague, Professor Stanimir Sirakov, operated a 4 year old girl and a 18-year-old man with very complex malformations of the arteries and veins. The doctors said the operation was successful and just need to wait for the post operative period to pass.
A little girl was a very healthy child until 3 months ago, when she suddenly had a hemorrhage in the brain leading to paralysis of her right hand and right leg.
Later, the doctors at St. Ivan Rilski Hospital found brain arteriovenous malformation in a very risky and complex area of the brain. The child could not be treated with conventional neurosurgery. The only option was the innovative method - transvenous embolization.
Prof. Sharbel Moniye: "Previously people were afraid of this procedure because it was not yet well developed, but it is the only one that can treat such malformations of bleeding blood vessels. They resemble a pump - if we close the vein before we have released the blood path, it will blow up and you can imagine what would happen to such a blast in the brain."
With this method, doctors move along the vascular system and, once they reach the centre of the malformation, they fill the pathological vessels with the so-called tissue glue. This restores normal blood circulation and eliminates the risk of further bleeding.
Assistant Professor Stanimir Sirakov - "St. Ivan Rilski" University Hospital: "We are now waiting for the postoperative period of at least 24 hours to pass. There are no unexpected complications, everything seems perfect - practically completely cured patients."
For the second patient, an 18-year-old man, this operation would be a miracle. He had extremely severe epilepsy, which also could not be treated wuith a standard therapy.
After the intervention, both of them now have all the chances fora life without seizures for the young man and enjoyable childhood for the little girl.