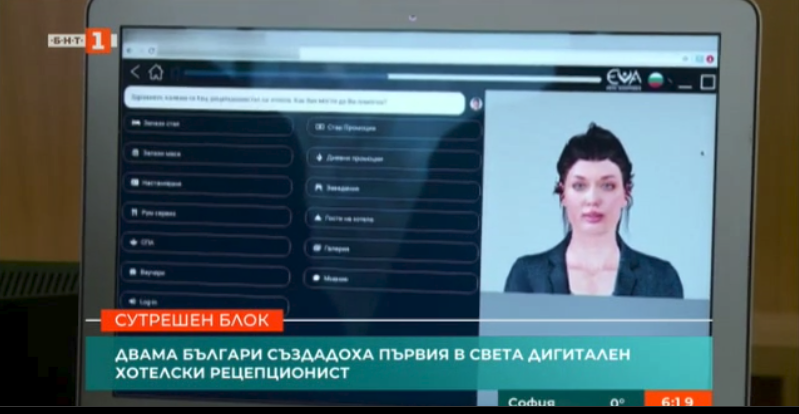 The world's first digital hotel receptionist was created by two Bulgarians who have lived in the UK for many years. The purpose of the electronic application is to make it easier for customers to book a hotel, as well as to improve the work of reception staff.
Valentin Gadzhonov and his friend developed the application for a year and a half. They have studied "Hotel management" in the UK and have worked for many years in various British hotels. The two friends decided to create a digital receptionist that could be helpful to clients and staff. The receptionist's name is Eva.
Valentin Gadzhonov: Eva is the world's first digital hotel receptionist that can fulfill many of the receptionist's duties. Her desk is the hotel's website and everyone can work with her from the mobile phone, tablet, computer, and every hotel chooses how to train her, i.e. she follows the hotel policy and therefore is tailored for each hotel.
The platform facilitates customers because they do not have to make calls for a room or hotel reservation.
Valentin Gadzhonov: Customers can listen to Eva though the phone and through it they can check out the daily offers, different types of promotions. She can show a gallery and various videos. Bookings for spa andrestaurants can be made.
Besides being attractive to consumers, the electronic application also is helpful to receptionists. Hoteliers's observations are that receptionists often can not pay enough attention to the client.
Valentin Gadzhonov: Nowadays, receptionists are overwhelmed with administrative responsibilities that make them very busy. They have to write emails, respond, pick up the phone, and actually when customers arrive, they are tired or just do not have the energy to smile, to meet the guests, to accommodate them. So, here comes Eva's job.
The application is already enjoying tremendous interest among hoteliers, who believe that the huge shortage of staff will be overcome and services will be improved.
Sedir Karinov, hotel manager: They are constantly busy with administrative work. They have to do many other things at work and there is no time to pay attention to the guests.
Another advantage of the digital receptionist is that it can speak to many clients simultaneously in different languages. The authors of the innovative idea believe the app will be a new era in the hotel industry. The next country where Eva will be presented is the UK.