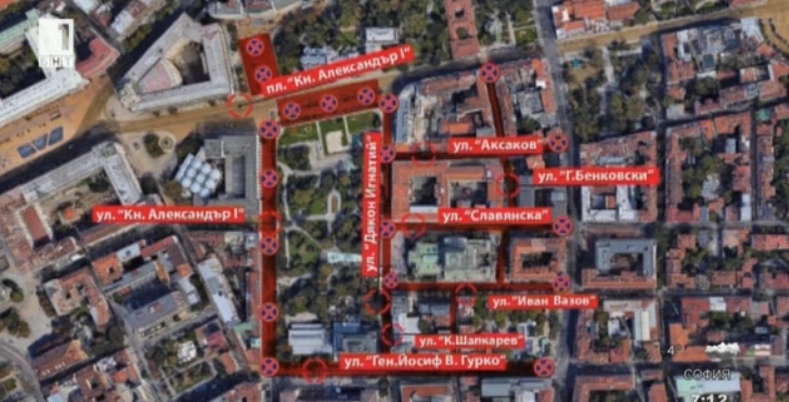 Тraffic changes will be introduced in Sofia as of 10th of January in relation to the Presidency of the Council of the European Union and the official visit of the European commissioners.
The traffic changes will be in place until the departure of the delegations. From 17:30 on 10th of January to 12th of Janaury, Gurko street will be closed for traffic in the section between Rakovksa street and Knyaz Alexander I. Parking will not be allowed.
Traffic changes will also be introduced in other sections in the area and at Knyaz Alexander I square.
Traffic and parking will not be allowed in streets around the National theatre "Ivan Vazov" and the National Palace of Culture. The residents living in the centre of Sofia who park with year-round stickers will need to find parking spaces in nearby streets.
Some strrets will be open to traffic after the end of the events by 11th of January. The sections from dospat street and Baba Nedelya will remain closed from 11th to 12th of January.
On 12th of January, the bus stop on Cherni Vrah boulevard under the Bridge of the Lovers will be temporarily closed for an hour in the direction towards Bulgaria blvd. Public transport buses will not stop there between 11:00 and 12:00 o'çlock.
Several areas in the paid parking zones will be closed. There will be some parking limitations in the stets around the National theratre, including Slavyanska, Ivan Vazov and Benskovski.