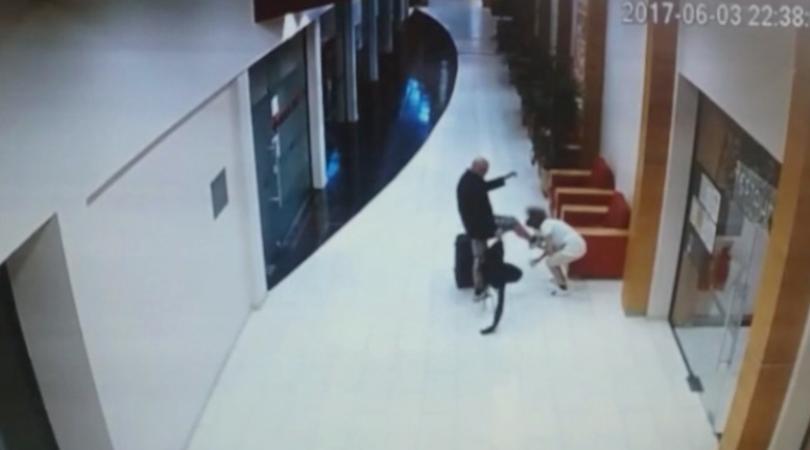 The regional court in Bulgaria's seaside town of Nessebar ruled on 8th of June that the Swedish tourist, who kicked a 65-year-old hotel maid in the head, should remain in custody.
The 53 year old Swedish was arrested after he was caught on camera kicking a cleaner in the head at a hotel in Sunny Beach resort on the Bulgarian Black Sea coast.
The Swedish tourist was caught on CCTV walking down a corridor in a hotel where the maid was cleaning. The footage shows him walking past the maid, then the two exchange a few words and she continues to clean the floor. A few seconds later, he is seen kicking the woman in the face for no obvious reason. According to media reports, she was knocked unconscious.
According to the court in Nessebar, there is sufficient evidence that he has committed the acts for which he is accused. Upon entering the courtroom, Ralf Sundberg said he was ashamed of what he had done, that he was drunk and did not remember anything.
In the courtroom, Ralph Sundberg said he did not remember what he had done, nor that he had attacked the maid. He cried and asked not to be sent to prison because he would not abscond.
He apologised for his behaviour and said he could not eat and sleep from worry. The prosecution demanded a remand in custody on the grounds that he had a plane ticket for Saturday and would leave the country. His defence lawyer asked for a release of her client, who said he would pay indemnity to the injured woman.
The court has assigned a psychiatric test to identify whether the Swedish citizen had alcohol dependency or not. For such crimes the law provides for up to 3 years of imprisonment.
Within seven days, charges will be pressed against the Swedish citizen and the case is expected to be scheduled immediately thereafter.
Bulgaria's Minister of Tourism Nikolina Angelkova described the incident at Sunny Beach as "brutal". According to her, such an act is unacceptable. Angelkova has called on anyone who has witnessed aggression or strange behaviour at the Bulgarian Black Sea Coast to alert the 24-hour telephone line for irregularities to help the work of the competent authorities.
She demanded the President of the Bulgarian Hotel and Restaurant Association, Blagoi Ragin, to resign. He urged not to talk much about the incident with the Swedish tourist kicking a maid in Sunny Beach because tour operators working with Sweden were worried they might lose their clients.
On 8th of June, Ragin submitted his resignation. His decision comes after a wave of criticism against him in the social media. Ragin sparked a public outcry after the remarks he made about the scandal.