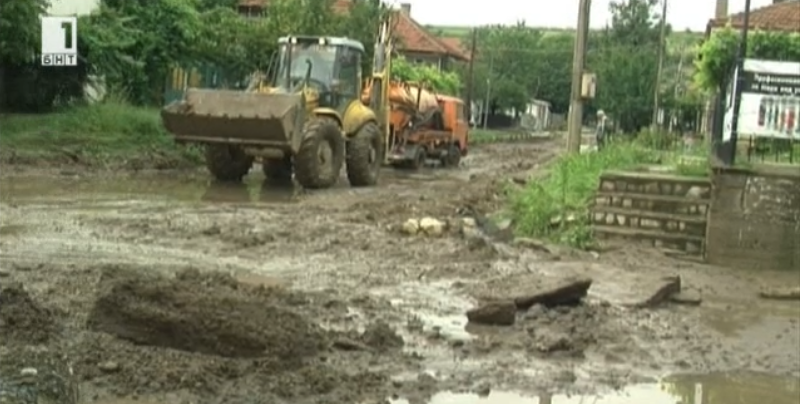 The state of emergency remains in place on 11th of July in three municipalities in Vratsa region (North-West Bulgaria) because of the heavy rains and the elevated levels of the dams. Siphons and mounted auxiliary pumps were activated on Rogozen dam yesterday. The readiness to evacuate the residents from the municipalities of Mizia, Borovan and Hairedin remains.
In Mizia, the rain left several streets underwater.
Four years ago in Mizia, the situation was critical after downpours when the streets could only be crossed by boats and the houses were underwater for nearly two weeks. Many people have not yet repaired the damages on their homes from the previous floodingt and the area was hit by another disaster last night. The torrential rain flooded two streets.
Residents of Mizia said that the night was sleepless and very difficult for them. The kindergarten in the area was closed because it is flooded. Road surface of the street was damaged and vehicles of the emergency teams, as well as of the residents, cannot pass.
The Mayor of Mizia, Violin Krushovenski said that there were no reports about injured people, and pumping out of water from residents' homes is currently under way. Public infrastructure is covered with mud, he added.
The levels of dams and rivers are constantly monitored by providing information to the civil protection every hour, Krushovenski said. He added that it is possible for the rivers to get filled with more water because of the overflowing dams in the cascade of Borovan and Hairedin. He thanked the MoI teams and the fire fighting service for their timely response.
The state of emergency remains in force until July 21 at 21:00.