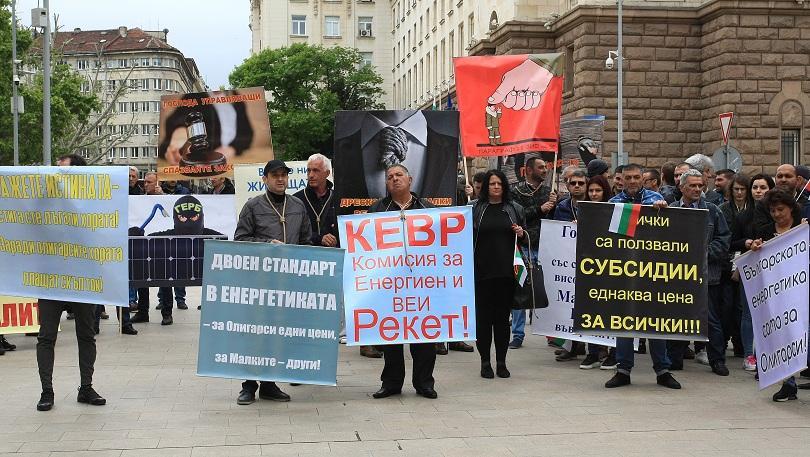 Small producers of electricity from renewable energy sources staged a protest on 15th of May. They argue that there is a double standard in the sector that leads to a rising price for the end user.
The protest began shortly after 10:00 with a symbolic breaking of a photovoltaic panel. There were representatives of 270 micro-companies for generation of electricity from renewable sources. They protest against a law passed four years ago that prohibits the purchase of electricity generated from wind and sun if European funding is applied to these plants.
The protesters, however, argue that their photovoltaic power plants are produced with money from a de minimis rural development programme, which is neither European nor national funding and therefore should not fall under the scope of this law and for this reason their electricity is purchased at low prices.
For this reason, they are unable to pay off the credits that the power plants made before Brussels transfer the necessary funds to them. They demanded the resignation of Energy Minister Temenuzhka Petkova and the Head of energy regulator Ivan Ivanov for failing to apply the Energy Act correctly. They want a meeting with Prime Minister Boyko Borissov.
Minister Petkova said she knew about the problem, that she had met with representatives of micro-power plants driven by renewable energy sources several times and that there was a court decision which prohibits purchase of electricity at high prices, which was generated by EU-funded plants.
She said that the Constitutional Court issued a decision, from which it is clear that the change in the law is perfectly normal, in this case it is about over-subsidization of this type of producer. This protest is indeed absolutely unsubstantiated, she added. These are topics that we have discussed and I hope the colleagues really remember what we have been talking about over the years and how things have evolved, she remarked.