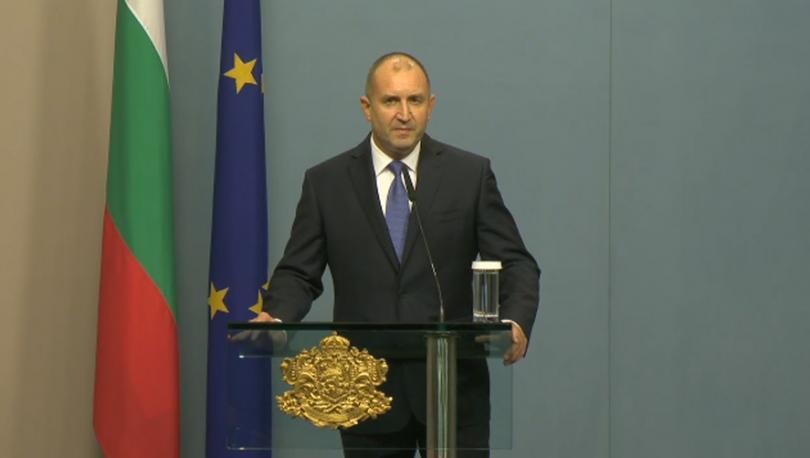 Bulgaria's President Rumen Radev on November 26 signed a decree for the appointment of Ivan Geshev as Chief Prosecutor.
At the meeting with him, however, he expressed his expectations for justice, in the basis of which is the independent prosecutor's office. The President also announced that a broad public debate will start aimed at amendments to the Constitution.
On October 24, SJC approved Ivan Geshev as Bulgaria's Chief Prosecutor. He was the only candidate for the post.
The nomination was subject to approval by Bulgaria's President. On November 7, he refused to approve the appointment of Ivan Geshev as chief prosecutor and returned the proposal back to the SJC.
In a repeat vote on November 14, Bulgaria's Supreme Judicial Council voted to approve the election of Ivan Geshev as the next chief prosecutor.

Speaking in a televised address today President Radev said that at the beginning of the month he returned the decision of the Supreme Judicial Council (SJC) about the Chief Prosecutor and emphasized that the way of making this choice should create confidence in the public, not raise doubts. The re-vote in the SJC failed to disperse them. However, there is no way to listen to the calls for violation of the Constitution, because the rule of law is the foundation of democracy. Bulgaria will prosper when we start to respect and obey the laws, he said.
Therefore, I will not allow the President to violate the Constitution, which I have always obeyed, The President noted.
Today, I signed a decree appointing Mr. Ivan Geshev as Bulgaria's Chief Prosecutor. I had previously invited him to a meeting in the Presidency. I have clearly expressed my expectations for justice, which is based on an independent and effective Prosecutor's office that treats all those who have broken the law equally, regardless of social status, political affiliation and participation in power.
The President remarked that the Bulgarians expect the chief prosecutor to address scandals where there are suspcions about corruption at high levels of the power, hidden offshore accounts, businesses and properties abroad of politicians and magistrates, as well as "Apartmentgate", BFSA and mobile incinerators, the bad quality of repairs and infrastructure projects, and many more, the collapse of the Corporate Bank. Identifying all the guilty parties and bringing them to justice will be the real test for the new Chief Prosecutor, he added.