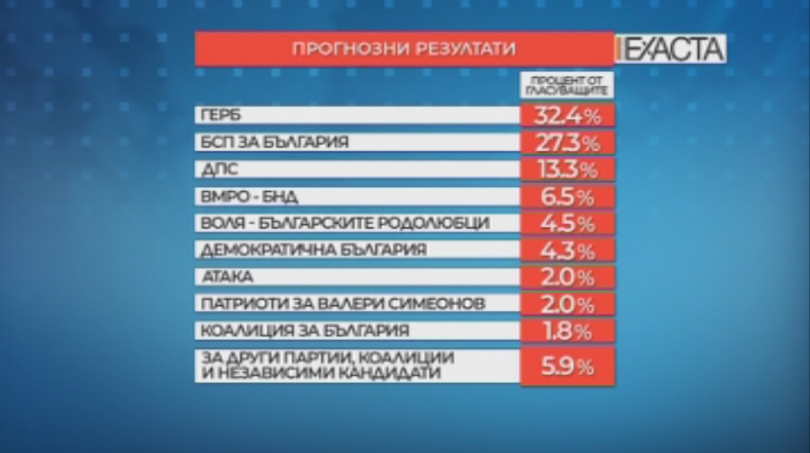 At the end of the campaigning ahead of Bulgaria's May 26 European Parliament elections, Prime Minister Boyko Borissov's centre-right GERB party has 31.1% support of the voters and the Bulgarian Socialist Party (BSP) 26.6%, according to the results of a poll by Alpha Research released on May 23.
The survey was conducted among 1,016 adults from the country and was self-financed.
The Movement for Rights and Freedoms traditionally mobilizes its supporters in the final days before the vote and at the end of the campaign it is in third place on 13.9%.
A nationally representative survey, conducted by exacta among 1,000 adult Bulgarians in the period 18-22 May, reveals a 5.1% lead for GERB to the BS. According to the agency 4 political formations have a chance to have their representatives in the next European Parliament - these are GERB, BSP for Bulgaria, MRF and IMRO.
It is impossible to forecast whether the Bulgarian Socialist Party (BSP) or GERB will win the May 26 European Parliament elections, as GERB takes a slight 1.3%t lead over the Socialists - a difference that falls within the stochastic error, Mediana polling agency said. The poll was conducted among 1,008 respondents between May 17 and 21, 2019.
A Gallup International survey among 1,003 people across the country, conducted with own funds from May 10 to May 17, shows that two main formations are contesting for the first place with the BSP having a lead. According to the poll results, the BSP is possible to get 28 and 32% of the voters' support, and GERB between 27 and 31%. The agency puts the voters' support for MRF at 15-16%, about 6% for IMRO, which means it passes the electoral threshold of 5.88%, required to qualify for a seat. Volya party is possible to gain between 5 and 6%. Democratic Bulgaria - between 4 and 5%.
According to the results of the poll by AFIS Agency, BSP has a lead over GERB, by a little over 1%.
The poll shows 27.4% support for BSP and 26.1% for GERB %. MRFs are stable in third place with just over 14%. The agency notes that the mobilization of the MRF is traditionally the highest, but IMRO has also been running a very successful campaign. The survey was conducted with own funds in the period 10-15 May, among 1,604 adult Bulgarians.