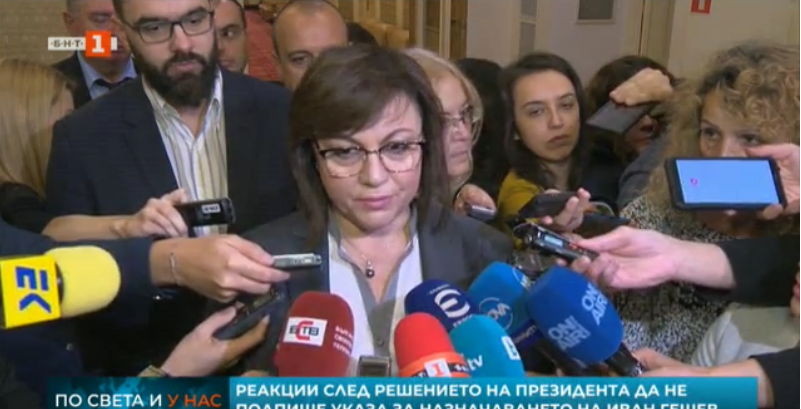 The decision of President Rumen Radev not to decree the appointment of Chief Prosecutor-elect, Ivan Geshev, drew comments from politicians on November 8. Although the opinions were divergent, most pointed out that he is entitled by the Constitution to do that. They also agreed that now the matter rests entirely with Supreme Judicial Council (SJC) and that there should be no pressure on SJC members.
Kornelia Ninova, the leader of the opposition Bulgarian Socialist Party (BSP): I would like to recall the BSP's position, which I expressed on behalf of our group on July 31, 3 months ago, here from the rostrum of Parliament - that a competition with one person is not a real competition and that the only person who could have secured a real race is Prime Minister Borissov, because by law nominations are made either by prosecutors or the government. I was pretty sharp in that statement. I said that we hoped Borissov would have submitted a second nomination. Unfortunately, his heavy dependences did not allow him the courage.
Krasimir Tsipov, ruling GERB: The President acted within his constitutional powers. From now on the procedure should continue. Everything is in the hands of the SJC. It is good to remind that this reform happened as a result of changes to the Constitution and the Judiciary Act. And it was those who protested against the election of Geshev as Chief Prosecutor that in the basis of these proposals. I refer to representatives of Democratic Bulgaria.

Why the government did not nominate anyone - this is a possibility by law, it is not an obligation, it is not a commitment of the government. All government officials, the Minister of Justice and the Prime Minister, said that if we exercised such a power, many questions would arise.
Hamid Hamid, MRF: Politicians, MPs and political parties should not comment on this process because we are out of this procedure. The independent judiciary elects the chief prosecutor, the President signs or does not sign a decree. Where is the role of MPs in this procedure to comment? I refuse to comment!
Krasimir Karakachanov, United Patriots: One of the arguments, is that there was public disagreement. There was disagreement, but there was agreement as well. But, after all, this is up to the President. It is up to his judgement. I don't think it needs to be dramatized.