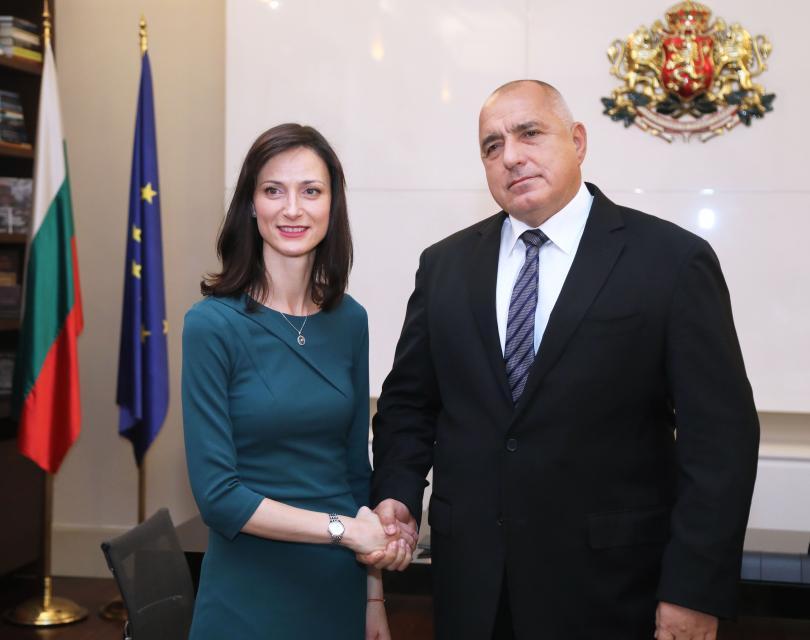 Prime Minister Boyko Borissov met with Bulgaria's European Commissioner for Innovation, Research, Culture, Education and Youth Mariya Gabriel, the government press office said on December 6.
The topic of the meeting held at the Council of Ministers was Gabriel's priorities during the five-year term of office of the new European Commission. She took office on December 1.
Prime Minister Borissov was adamant that the responsibility of Mariya Gabriel is a great recognition for Bulgaria and at the same time gives many opportunities for work in the interest of the European Union and its citizens. Borissov expressed confidence that Gabriel would successfully manage her portfolio, which skillfully combines fundamental European values such as education, culture and youth with the topics on supercomputers and digital hubs. The Prime Minister has indicated the serious responsibility of Mariya Gabriel, who will manage the Horizon Europe program, with a budget of € 100 billion proposed by the European Commission.
Prime Minister Boyko Borisosv stressed that Mariya Gabriel's portfolio in the new Commission also corresponds with key priorities of the Bulgarian government's programme, on which the cabinet works on a daily basis. "I am sure that the established strong trust and excellent cooperation between Bulgaria and the European Commission will continue in the future," the Prime Minister said, adding that he would also rely on Mariya Gabriel's efforts in this direction.
Mariya Gabriel said that she took the responsibilities of European Commissioner for Innovation, Research, Culture, Education and Youth as a great honour. She stressed that she and her team would seek to address the serious challenges facing Europe by focusing first and foremost on the benefits for European citizens. Gabriel emphasized the importance of education and lifelong learning opportunities, the prospects for young people, the support for researchers, the promotion of innovation and the preservation of cultural heritage.
Mariya Gabriel expressed confidence that the new European Commission would work with her colleagues in a spirit of cooperation and trust so that many common initiatives would be implemented and that the expectations of the European citizens and the challenges facing the European Union would be met to the fullest.