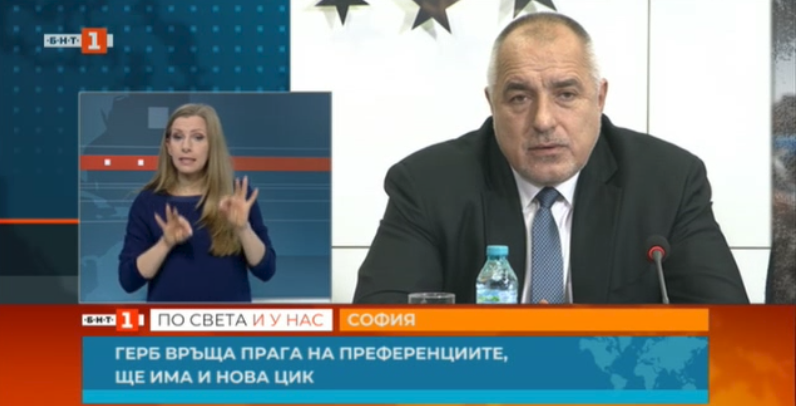 GERB will reinstate the previous threshold of preferences, from before the changes to the Electoral Code. The members of the current Election Commission will be replaced, Bulgaria's Prime Minister and GERB leader Boyko Borissov said on 18th of February following a meeting of the Party's Executive Committee, at which the latest revisions to the Election Code were discussed.
Boyko Borissov, Prime Minister and leader of GERB: We were the first to introduce the majority law, and as a party we have always been elected through a majority system. I don't want to leave the slightest impression that we are influenced by election rules. But, as a matter of fact, let me remind that the term in office of the previous previous CEC was terminated early, we were in oposition at the time. This election commission and this electoral law was fully promoted then by Ms. Maya Manolova - now an ombudsman, all this was chiosen during the term of office of the Bulgarian Socialist Parttya and MRF.

Georgi Markov: After GERB's leader was briefed, he will reinstate the so-called " referential voting". Why? Because we are the only political force in Bulgaria that listens to the voices of 2 million and 500 thousand Bulgarian voters.
At the news briefing, GERB said that a procedure for election of a new Central Electoral Commission will be opened.
Preference voting allows a voter to mark a preference for a particular candidate from the list of the party or coalition for which they vote in their constituency. The candidate, given enough preferences, can move up the party list of candidates and improve his or her chance of getting elected. Prior to the Electoral Code revisions, the threshold was set at 5% of the votes for the respective list for European elections and at 7% for parliamentary elections.
The revisions increased the required number of votes to allow such rearrangement of the candidates list, making it equal to the number of votes needed for election of a member of the European Parliament, the national parliament or a municipal council. Thus to move up the party list, a candidate will need 150,000 preferences in European elections and 15,000 preferences in national parliamentary elections, compared to 2,000 or 3,000 preferences before.
The decisions were voted last week as amendments to the currentElectoral Code. They were criticised both by the opposition BSP and by members of the United Patriots alliance (a minority partner in the ruling coalition).
On 17th of February, BSP leader Kornelia Ninova threatened that her parliamentary group would walk out of Parliament because of the the new election rules.

Bulgaria's Ombudsperson Maya Manolova announced on 15th of February that she would refer the changes to the Electoral Code to the Constitutional Court immediately after they are promulgated in the State Gazette.