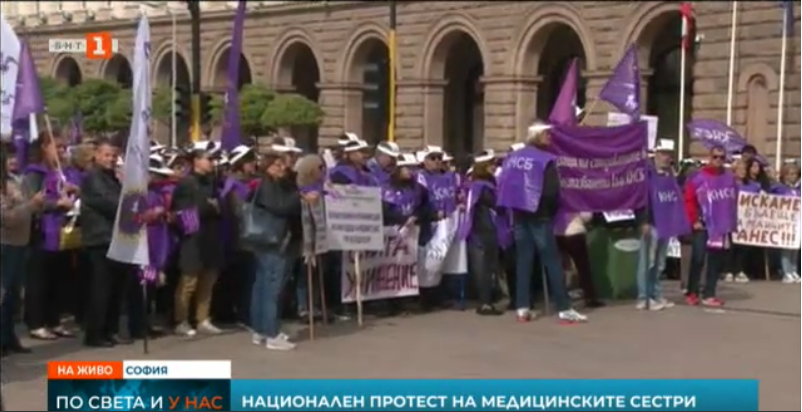 A national protest of the medics is taking place in Sofia on October 7. The main demand is higher pay. Organisers of the protest are the trade union CITUB and the Bulgarian Association of Healthcare Professionals.
The protest takes place on World Day for Decent Work. The organisers are currently meeting with Health Minister Kiril Ananiev and Deputy Prime Minister Tomislav Donchev to discuss all demands, which are a minimum wage for nurses of BGN 900 in municipal hospitals, BGN 950 in university hospitals and respectively BGN 1,100 and BGN 1,200 starting salary for doctors. The salaries were agreed in the collective agreement but were not fulfilled, CITUB reported.
Dr. Ivan Kokalov, Vice-President of CITUB: If more than 200 million are added to the health insurance fund specifically for hospital healthcare, I think 99% of the levels will be reached, because you know the difference between the different medical establishments.
Milka Vassileva, President of the Bulgarian Association of Healthcare Professionals: The distribution of funds is not transparent and subjective. We want rules, we also want controls. There should be exact pay ratios for doctors, nurses, healthcare assistants, and not exactly in the values given in the methodology.
Some of the nurses differed from the protest of the trade unions, because in their view, these are organizations that serve the establishment. The protest was not supported by the Bulgarian Medical Association, the Association of Municipal Hospitals, the Association of Student Medical Assistants, as well as by patient organisations.