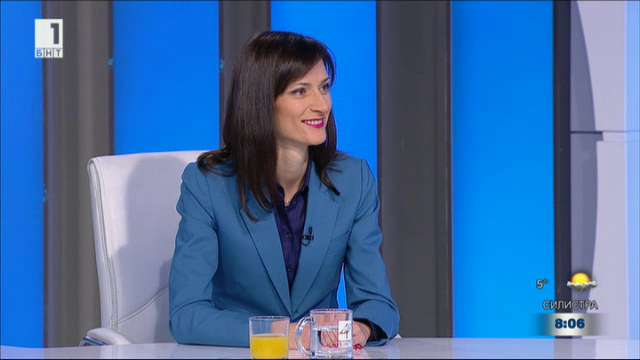 The EC plans to invest EUR 1 billion in European supercomputers. This will be a structure of high-performance computing technology that will cover all the aspiring member states. The idea is for Europe to become more competitive and independent, and European data protected. Increase in cybersecurity, effective fight against false news and the development of the digital economy and the high-tech manufacturing industries with high added value are also among the objectives.
These topics were at the focus of the conversation with the EU Commissioner for Digital Economy and Digital Society, Mariya Gabriel, in the BNT breaksast Programme "The Day Begins" on 12th of January.
During the EU Presidency, Bulgaria will have a crucial role to play on topics from the Audiovisual Services Directive for the Protection of Minors and will hold talks on the topic of cybersecurity, Mariya Gabriel said.
She is also the initiator for introducing Europe's supercomputers. She commented that the EC has made a historic decision and the goal is to be implemented by 2022.
Gabriel announced that a pilot project for free wireless internet in public places in Europe will launch in a month and will initiate a pilot project to create a network of centers of excellence in the EU member states.
The Bulgarian EU Commissioner commented that digital skills are her top priority, and in her words 80 million from 500 million Europeans have never used the Internet, 169 million have no basic digital skills. To that end, the European Commission has provided training to nearly 7 million Europeans and launched a Digital Opportunities project aimed at young people to enable between 5-6 thousand young people in Europe to have a period of 4 or 5 months of experience in another EU country. Students who are not IT specialists.
On 11th of January, the EC announced a historic decision. I am the initiator of this decision, but the work is in team and I thank everyone who has contributed to it, she said.
Gabriel stressed that this would bring a particular benefit to the development of science and industry, as well as to the ordinary people.
It is no coincidence that I want them to be at the heart of any new technology policy. The supercomputer means much faster development of drugs, medicine, early diagnosis and more personally orientated treatment. It means we will much faster know about climate problems, have an opportunity to predict earthquakes, so as to evacuate people on time and save lives. It means that certain production cycles will be reduced - we can go down to 60 months in the field of automotive industry. It means more security - in the area of cybersecurity much more encryption technologies, personal data keeping, very early detection of suspicious online behaviour, which would allow large-scale attacks to be avoided, the EU commissioner explained.
In her words, the specificity of this project is the great benefit for small and medium-sized enterprises.
We would like them to have access to the data to allow them to innovate, to have much faster solutions to the challenges we face as a society and as citizens, " Mariya Gabriel added.