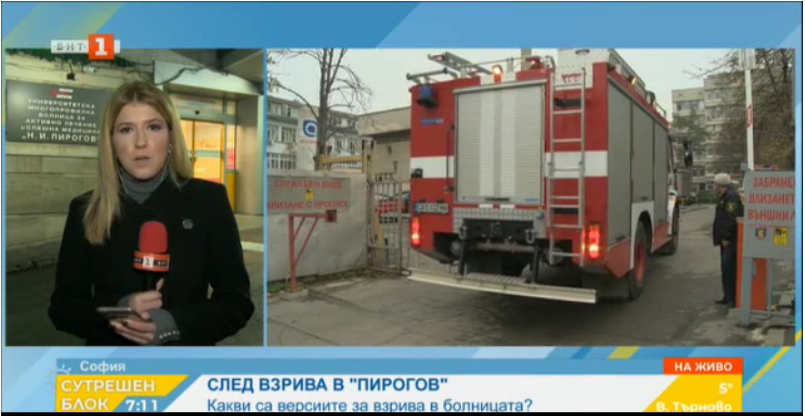 Investigation into the causes of the fire at Pirogov emergency hospital in Sofia continues. Two people were killed and 32 were evacuated on November 27.
The circumstances in which the fire occurred in the second internal ward of the hiospital continue to be clarified. It is not yet clear what caused the explosion of the oxygen system.
Regarding the possible versions for the causes, the investigators are still clarifying the circumstances. The problem is that there are no direct witnesses to the incident and the investigators are working on conjectures and assumptions. They gather evidence that leads them to conclusions.
Yesterday the hospital activity was normal. There was no panic. The only thing the director, Professor Gabrovski warned, was that there might be difficulties during the day in the work of the anti-shock room.
By order of the Chief Prosecutor Sotir Tsatsarov the investigation will be conducted by the National Investigation Unit. There are two versions that are being worked on. The prevailing version is of a lit cigarette in one of the hospital rooms - in the VIP room from which the fire started. However, investigators will also work on a version of the oxygen system malfunction.
It is already clear that one of the victims was a smoker, but the hospital is not linking it to the incident.
The hospital is adamant that the oxygen delivery system at the clinic was checked on a daily basis and was good and a certified company exercised control every month. The State Agency for Metrological and Technical Surveillance (SAMTS) also confirmed that the incident did not occur as a result of a malfunction of the liquid oxygen bottles.
The fire started from the north wing of the oldest hospital building which includes the internal ward the cardiology and neurology wards. 15 of the patients were slightly injured in the fire. There is no pollution, and the normal work in the hospital is restored. Repair work is expected to begin.