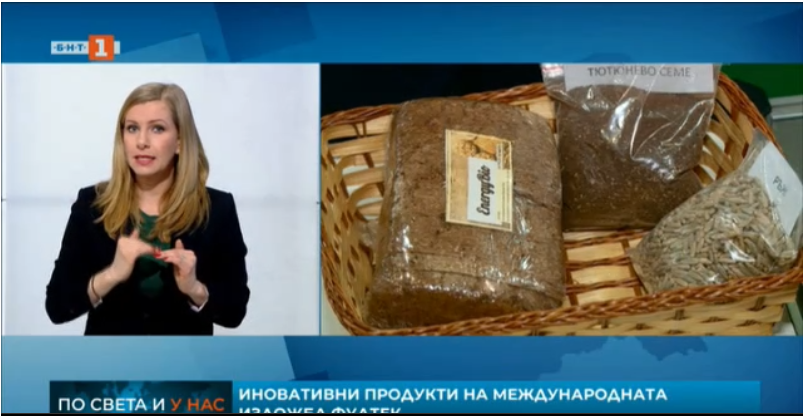 Tobacco seed bread for diabetics, edible food packaging and an enzyme product that cleanses plaque from the body - these are just some of the innovations presented at the international exhibition of food products and technologies "Foodtech" in Bulgaria's second largest city of Plovdiv. The innovative developments are the work of the Institute of Cryobiology and Food Technology. The consumer award in the new product contest went to a lukanka (flat sausage) with rum.
Rye bread with tobacco seeds is an absolute novelty and guarantees a lot of energy with a minimum of carbohydrates.
Prof. Iliana Nacheva, Director of the Institute of Cryobiology and Food Technology: Tobacco seed is added to increase the amount of protein, and therefore to increase energy value.
The bread is suitable for diabetics and active athletes. Another new development of the Institute of Cryobiology is an enzyme for cleaning plaques from all tissues in the body. The tablets combine ingredients from medical mushrooms, fermented soybeans and a silkworm microbiome.
Nikolay Solakov, Assistant Professor in the Institute of Cryobiology and Food Technology explained that it can be used as a prophylaxis for various serious conditions such as dementia, parkinson's disease, high blood pressure, poor blood vessel permeability.
Consumers highly appreciated the flat sausage enriched with golden rum matured in oak casks.
The edible packaging of pectin, which improves the storage of meat and cheese and can be consumed with them, was of great interest among producers.
***
"Foodtech" is an international exhibition of food products, machines and technologies and the most representative Bulgarian forum in the food industry sector. The major exhibition categories include food products, raw materials and supplies for the food industry, food processing machinery and equipment, packaging industry, beverages and tobacco products. Foodtech is part of the International Consumer Goods and Technologies Fair
The event runs from February 19 – 23, 2020 in Plovdiv.