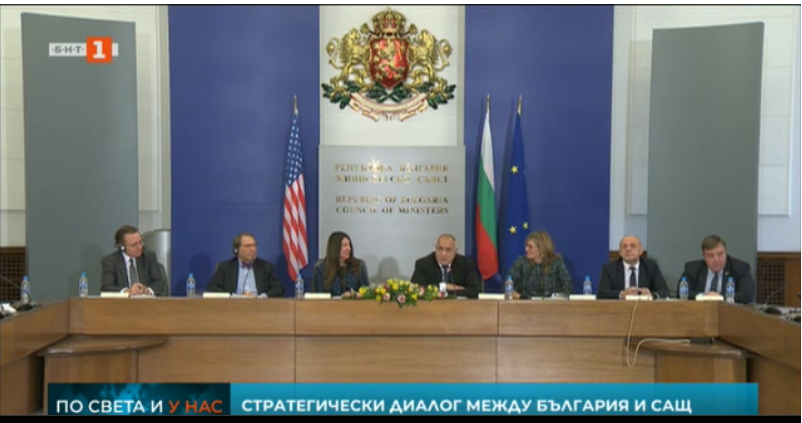 Before leaving for Istanbul for the opening ceremony of the TurkStream on January 8, Prime Minister Borissov discussed energy security, visa-free travel, collective defence, justice and the Western Balkans with US representatives at the first session of Bulgaria-US strategic dialogue. The format for deepening bilateral relations was agreed during Borissov's visit to the White House.
Deepening of energy cooperation was agreed today by both parties. The aim is to diversify gas supplies through the liquefied natural gas terminal in Alexandurpolis, in which the Council of Ministers today decided that Bulgaria will acquire 20%, the construction of the interconnector with Greece and accelerate the process of licensing US nuclear fuel as alternatives to Russian uranium. A further acceleration of the visa waiver process, a 10-year roadmap for defence cooperation, was also agreed. Legislative proposals to make state institutions even more independent, transparent and effective.
Through the Balkan gas hub, from a consumer Bulgaria turns into a major transit provider in the region, Prime Minister Borissov said during the forum. He also defended the need to build a Balkan Stream as part of the country's gas infrastructure.
Boyko Borissov, Prime Minister: Many of you have been wondering why they are not stopping us from building the Balkan Stream, as we call it. Because - first, it is not a continuation of Turk Stream.

Bulgaria is building its own gas transmission system with the most powerful US compressors - reversible, to be able to transport gas in all directions. When you don't have pipes and compressors, you can't be a hub.
Secretary of State David Haight has not arrived because of the crisis with Iran. Deputy Assistant Secretary Matt Boyse took part in the forum.
He said that America values Bulgaria as a friend, strategic partner and ally. Energy security is a national security, our common goal is that Bulgaria becomes a true gas distributor and a true source of regional energy security. No monopolists, domestic and foreign, working on a non-market basis. The American experience can help Bulgaria to make a truly dynamic energy market, he said.
US Ambassador Herro Mustafa said it was important for the United States that Bulgaria be strong and prosperous. Speaking in Bulgarian language she said that Bulgaria was an incredible country. Those wonderful Bulgarians, I meet every day, deserve the best for them and their children.
Important emphasis in the bilateral talks was the visa waiver.
Boyko Borissov, Prime Minister: We are currently below 10% in visa refusals.
In February, the Assistant Secretary of State for the visa Issue arrived to Bulgaria, to work and we hope that within a year, a year and something, we will have a finalised solution on his topic, he said.
As well as Bulgaria's strategic position for maintaining security in the region and within NATO and the idea of creating a naval coordination centre in Varna.
The two countries have negotiated a 10-year defence roadmap providing for naval cooperation, cybersecurity and interoperability through joint training.
Boyko Borissov, Prime Minister: Thousands of US servicemen come and train in Bulgaria in excellent conditions at Novo Selo base, so I believe that we can continue our progress in this area quickly.
Greater judicial independence and prosecutorial accountability are key priorities for strengthening democracy and the rule of law. The topic was discussed at the beginning of the week during the visit of Paul Vaky, Regional Director for Central and Eastern Europe/Near East at the U.S. Department of Justice's Office of Overseas Prosecutorial Development, Assistance, and Training. Also in attendance was the U.S. Embassy's new Resident Legal Advisor, Jessica Kim.