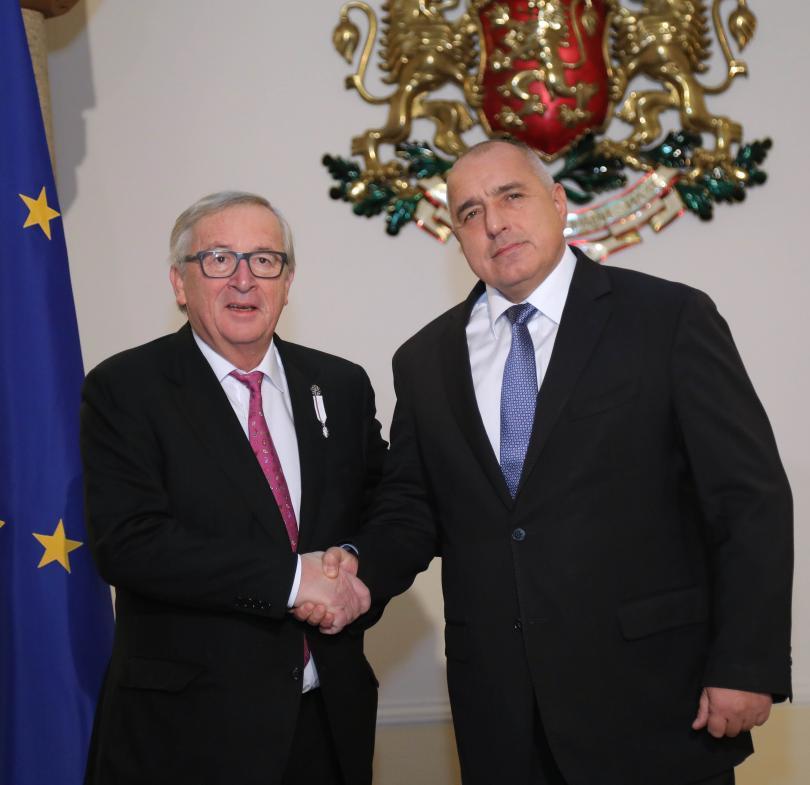 The first plenary session of the College of European Commissioners and the minuisters of the Bulgarian Government took place in the National Palace of Culture on 12th of January with an emphasis on the priorities of the Bulgarian Presidency of the Council of the European Union.
Earlier in the day, there was a cluster of meetings between Bulgarian ministers and EU commissioners on the issues of foreign affairs, security, defense and migration, inclusive and stable Europe, closer to the citizens, as well as a competitive, innovative and digital Europe.
In the presence of Jean-Claude Juncker, PM Borissov and Vice President of the European Investment Bank, a ceremony was held for signing an agreement on the largest project in Bulgaria, guaranteed by a loan from the European Fund for Strategic Investments, which is the central pillar of the Juncker plan for growth and jobs in Europe. The funding will be in the field of agriculture.
Earlier today Prime Minister Borissov met EC President Jean-Claude Juncker in the Council of Ministers. The two talked about the partnership of the Bulgarian government and the European Commission during the rotating presidency and the need for mutual trust between Bulgaria and Europe during these six months.
Prime Minister Borissov pointed out that for the 10 years of membership in the Union, Bulgaria has gained experience in resolving various crises through which the Union went through and will continue to be active in discussions about its future. "Our responsibility for the next six months is great, but we remain a relaible partner in seeking consensus on the most important topics for the community, " Borissov said. He added that it is exceptionally important for him to strengthen the unity of the EU.
The Prime Minister and the President of the European Commission agreed on the most important priority for Bulgaria - the European future for all the Western Balkan countries. Juncker pointed out that this priority is a priority for Europe.
Jean Claude Juncker also had a meeting with the Bulgarian head of state Roumen Radev. The topics they discussed included the EU's policies and the different visions for the Union's development.
Bulgaria's head of state has declared the country's readiness to work for a united Europe, in which all Member States are on an equal footing. The importance of cohesion policy has been confirmed. The two also discussed the issue of a common asylum system for migrants in the EU, as well as the effective control of external borders and the application of the principle of solidarity and responsibility to EU member states.