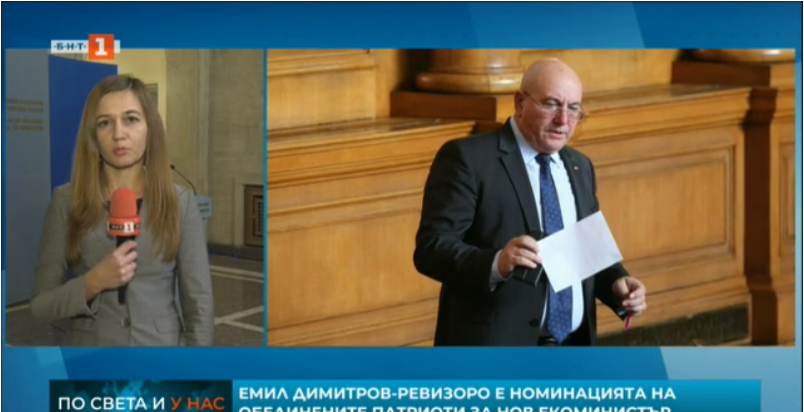 Member of Parliament Emil Dimitrov, known as Revizoro, is the United Patriots' nomination for a new environment minister.
Emil Dimitrov's nomination became clear after a two-hour Coalition Council meeting on January 14
Emil Dimitrov is an MP of the United Patriots, a junior member of the coalition government. He heads the Parliament's Monitoring Committee on the Revenue Agencies and Combating the Parallel Economy and Smuggling. He is also a former director of the Customs Agency. He was Secretary General of the Regional Administration in the town of Pernik, where he was born.
After the meeting, Krasimir Karakachanov, Deputy Prime Minister and IMRO leader, which is one of the constituent parties of the United Patriots alliance said that they expressed the position that they do not accept Neno Dimov to be a scapegoat for all the mistakes that were made years ago. "Because Neno Dimov, as Minister of Environment, approves the schedules submitted to him by the Water and Sewerage companies, which are not subordinated to the Ministry of Environment," Karakachanov said.
"Water losses from the wall of the dam to the transmission network in Pernik are nearly 1 million cubic metres per month, ie 12 million cubic meters of water per year. In this situation, Dimov resigned, as you know, his resignation was accepted by the Prime Minister and may be considered in Parliament tomorrow. We have proposed Emil Dimitrov to replace Neno Dimov. His main task will be, although it is not his direct duty, to undertake checks, if you like to call them audits, of the whole system, which leads not only Pernik but other cities as well to the risk of similar situation as the one in Pernik," he added.
GERB, the majority partner in the ruling coalition, did not comment on the nomination of Emil Dimitrov.
The first plenary session of the National Assembly after the holiday will be held tomorrow, January 15. Emil Dimitrov's nomination will be subject to voting either tomorrow or the day after tomorrow.