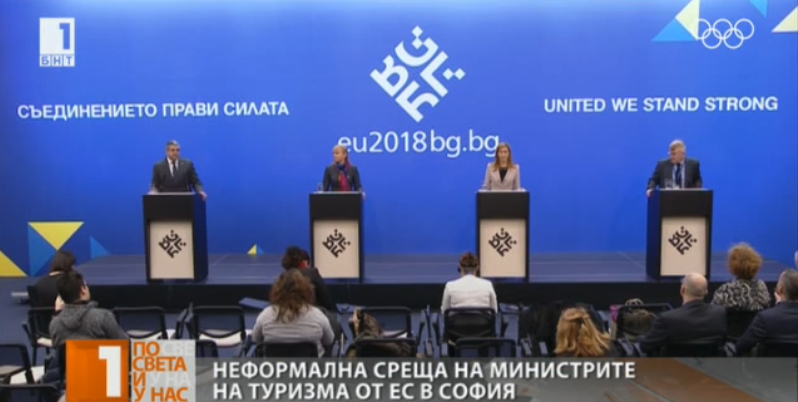 Tourism and its role in the economic growth of the European Union was the leading topic of the high-level meeting of EU tourism ministers, held on 13th of February in Sofia. The forum is part of the Bulgarian Presidency of the Council of the EU.
Special guests include Elżbieta Bieńkowska, EU Commissioner for Internal Market, Industry, Entrepreneurship and SMEs and Zurab Pololikashvili, Secretary-General of the World Tourism Organization (UNWTO).
The creation of a special European common fund to support the promotion of tourism in Europe was an idea put forward by Croatia's Minister of Tourism, the Bulgarian Tourism Minister, Nikolina Angelkova explained. According to her, there is already talk of increasing connectivity - digital, with the development of roads, infrastructure and fast air links.
A direct flight between Sofia and Beijing is under consideration, Angelkova said.
Elżbieta Bieńkowska has said that the challenges remain the same but in the context of the next financial framework is even more important to discuss topics such as digitization; skills, you heard that this is an extremely important topic; advertising. A month ago we started the European Year of Tourism Europe - China and the importance of Bulgaria in the region she added.
We will also work closely with the private sector, and this morning we also talked about the direct link with private sector employment, for example. Zurab Pololikashvili said. This is a great opportunity to improve employment and to cooperate very closely.
Nikolina Angelkova, Bulgaria's Minister of Tourism: China is extremely important not only for Bulgaria, it is also important for the EU and for Europe as a whole and therefore in today's panel we will discuss the possibility of presenting Europe as a destination for Chinese tourists and also creating joint tourism products.