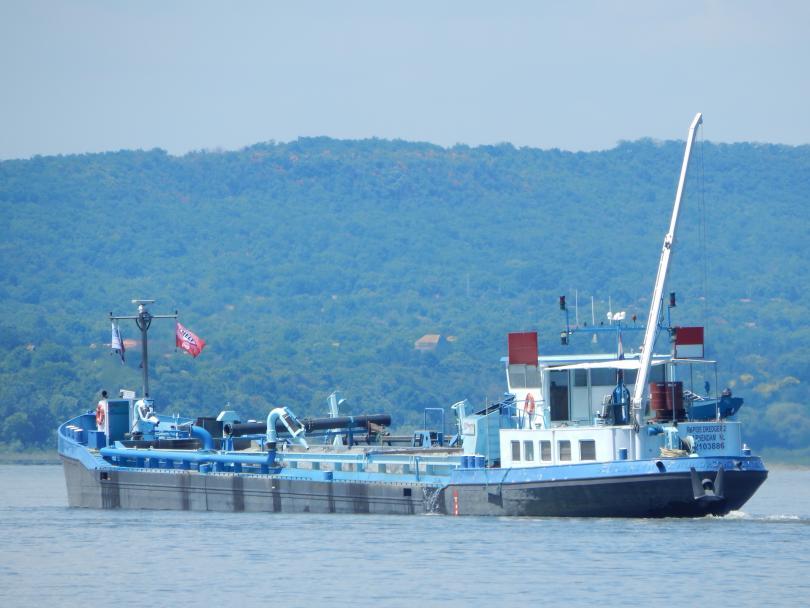 The deepening of the Danube waterway in the area of the Batin, Belene and Vardim islands, planned for 2019, has been completed. These are the three most critical places in the Bulgarian section of the Danube.
Dredging was carried out in July-September.
The total dredged volume amounts to almost 300,000 cubic metres.
As a result of the dredging activities, the depth of the fairway reached 300 cm and a width of 150 m at low navigable levels, which allow normal movement of vessels. Despite the low water levels that are typical for the season, shipping in critical areas has been significantly improved.
The dredging activities are carried out under an agreement between the Ministry of Transport, Information Technology and Communications, the Danube River Exploration and Maintenance Agency and Cosmos Shipping AD. The signed contract is worth BGN 6.7 million and guarantees the maintenance of river levels for a period of 3 years (until 2020 incl.). An additional agreement is to be drawn up to extend the period by another three years in order to guarantee the normal maintenance of the shipping route in the Bulgarian section of the Danube River.
The Danube Exploration and Maintenance Agency plans to purchase its own multifunctional dredging equipment, which will effectively fulfill its commitments for the maintenance of the fairway in the Bulgarian section of the Danube River. The new dredging facilities will be delivered under a project financed by OP Transport and Transport Infrastructure 2014-2020, worth approximately BGN 20 million. Two contracts for the purchase of dredges, pipelines for the transport of sediment, a pontoon and a shunting vessel have been announced and the companies that will supply the specialised equipment are expected to be selected soon.