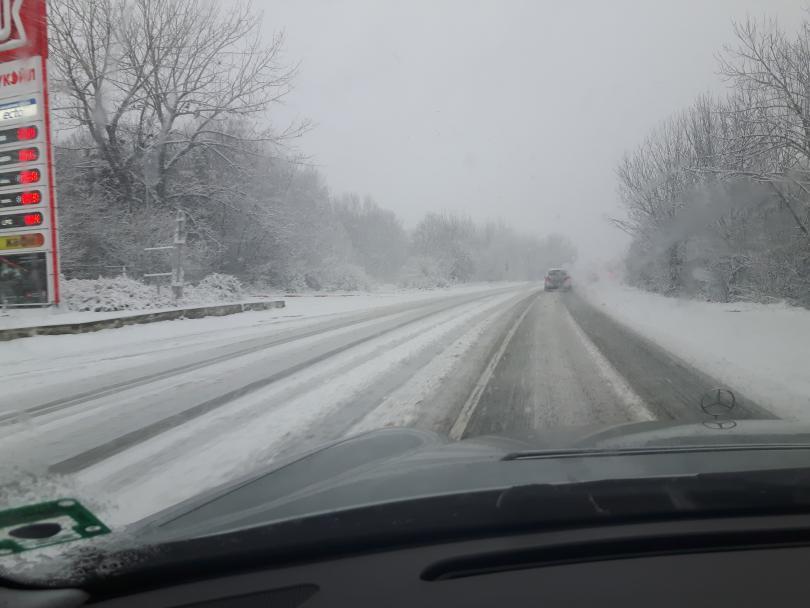 Code Orange is in place for 6 districts in Eastern Bulgaria for 28th of November - Bourgas, Varna, Dobrich, Shumen, Razgrad and Targovishte. Heavy snow and wind are expected and there is a risk of black ice. For the rest of the country the weather alert code is yellow and the warning is for snow, rain and strong wind.
The snow cover in the region of Vratsa reached 10 centimetres. On the territory of Vratsa, Montana and Vidin districts, traffic of all heavy goods vehicles has been temporarily stopped in order to avoid accidents.
The road between Vidin and Montana was closed to traffic this morning because of an accident. TIR lorry with Blagoevgrad registration turned over in the region of the village of Smolyanovtsi. The driver is Macedonian.
The road from Sofia to Veliko Tarnovo was not cleaned this morning. Traffic in the area of Sevlievo was disrupted.
A collision of two TIR lorries in the area of Polikraishte on Veliko Turnovo – Rousse road has caused difficulties to traffic for several hours. No one has been injured. Another road accident occurred on the road between the villages of Draganovo and Sushitsa near Gorna Oruyahovitsa. A woman was injured and transported to hospital.
There are traffic disruptions on the Pass of the Republic because of three stuck TIR lorries and on the main road between Sofia and Varna in the stretch near the village of Sheremetya.
Roads are being cleaned in the district of Haskovo. The municipality informs drivers not to park vehicles on the streets in order to avoid blocking the work of the snow plows.
Rousse- Byala road is temporarily closed for vehicles weighing more than 12 tonnes while snow clearing is taking place. Wind gusts reach 65 km per hour, making it difficult to clean the open areas on the national road network. Several TIRs lorries got stuck in one of the central Rousse boulevards "Hristo Botev" and this blocked the movement of the public transport.