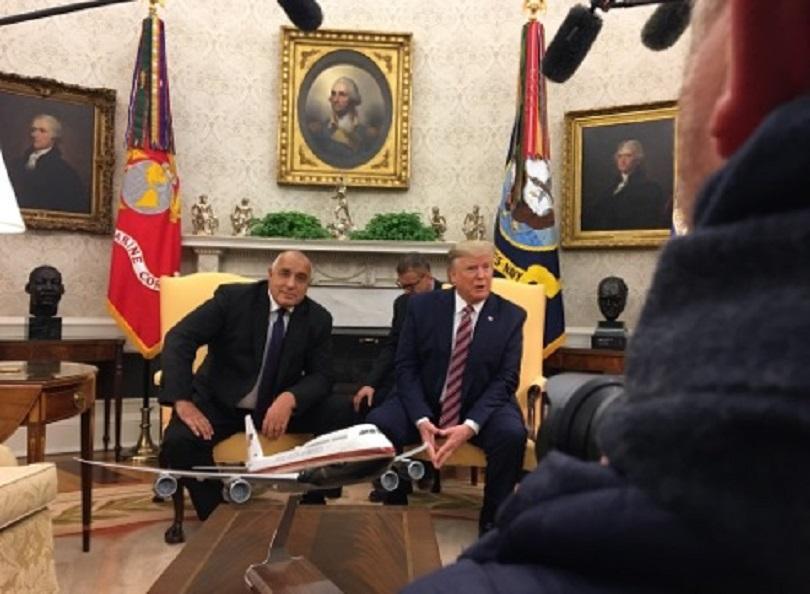 Bulgaria's Prime Minister Boyko Borissov and US President Donald Trump held a meeting at the White House on November 25. President Trump welcomed PM Borissov warmly and said that he would visit Bulgaria if invited.
This is Prime Minister Borissov's first visit at the invitation of President Trump.
The two began talks on the topic of visa waiver for Bulgarian citizens. The PM expressed satisfaction with the excellent cooperation between Bulgaria and the USA in the areas of defence, energy and economy. Trump said that Bulgaria could be an example for Germany because of defence spending, which reached over 3% of Gross Domestic Product.
President Turmp said that the relations between the USA and Bulgaria have been very strong. Great people. We have a lot of people from Bulgaria that are in this country, live in this country and become citizens of the Unite States, President Trump said. We are going to be talking about the visa programme as requested by the Bulgarian PM. We have very good cooperation, he added.
Bulgaria highly appreciates its strategic partnership with the United States of America and I am convinced that today's meeting will be of great benefit for its development, Prime Minister Boyko Borissov said at the beginning of the meeting.
It is an exceptional honour and privilege for me to hold our meeting in the White House - a symbol of freedom and democracy," Borissov noted.
He expressed satisfaction with the established sustainable political dialogue at all levels and expressed confidence that further activation would bring benefit for the two countries. Borissov emphasized the excellent partnership between Bulgaria and the US in a number of areas.
In the talks with US President Donald Trump, Prime Minister Borissov outlined the constructive interaction between the two countries on the preparation and conclusion of the contract for the acquisition of F-16 Block 70 fighter aircrafts.
Prime Minister Borissov also noted the cooperation of Bulgaria and the US in the area of energy, in the context of national security. He also highlighted the projects that Bulgaria is working hard on that will contribute to the diversification of energy sources and routes.
Another topic highlighted by Prime Minister Borissov was the importance of trade and economic relations between Bulgaria and the US.
He said that the American investors are welcome in Bulgaria and indicated the aspiration of our country to promote high-tech industries. He pointed out Bulgaria's advantages as a destination for investment.
PM Borissov expressed Bulgaria's interest in deepening its co-operation with the United States in a number of other areas such as education, science, promoting tourism and social intreaction.