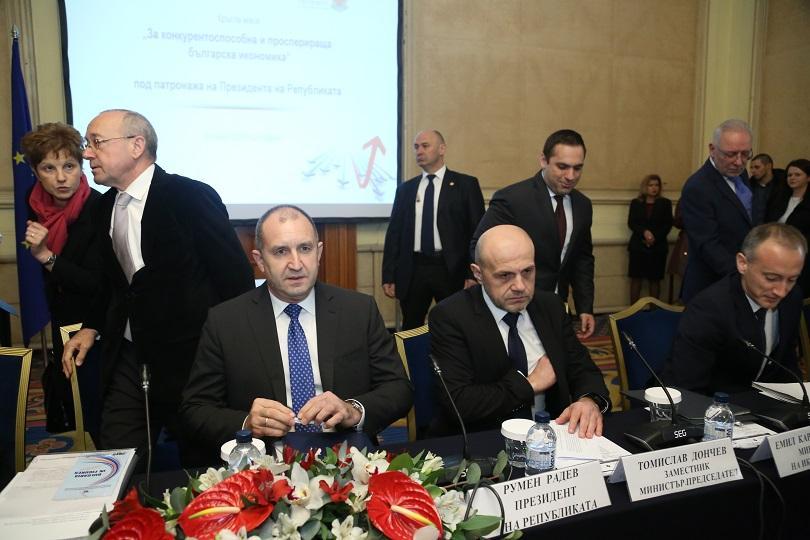 Bulgaria's Head of State Rumen Radev participated in a round table "Towards a Competitive and Prosperous Bulgarian Economy" on 14th of March. The forum is attended by Deputy Prime Ministers Tomislav Donchev and Mariana Nikolova, Ministers and MPs.
President Radev welcomed the tremendous interest in the forum, not only on the part of the business, but also on the government. According to him, the Bulgarian economy needs restructuring. He stressed that a government can only be stable if it has a successful and stable economy.
According to Rumen Radev, the Bulgarian economy is increasingly affected by demographic problems, and there is an increasing shortage of labour force. He said that investments really increased by 10%, but more important is where these investments go, he asked. In his view, it is most important that they go to the industry, only then sustainable development can be guaranteed.
Deputy PM Tomislav Donchev has said that the big issues now are that the economy should escape seeking lower costs and the extent to which government should intervene in the work of enterprises.
Tomislav Donchev, Deputy Prime Minister: State intervention can produce benefits, but can produce damages as well. Every direct state intervention has advantages and disadvantages. Basically, it's good. But is there a dark side? Of course there is. Does it distort the market? Yes, it distorts it. Are we giving direct subsidies to universities? Yes, it is good. But besides all the guarantees of quality that is being developed, it will have a direct effect on the economy.