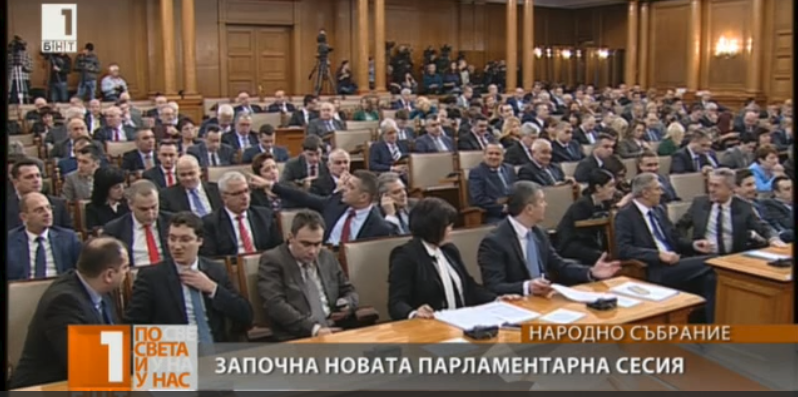 The Bulgarian Presidency of the Councuil of the EU was the main topic in the speeches of the leaders of the parliamentary groups at the opening of the new parliamentary season.
The sitting of the National Assembly began with the national anthems of Bulgaria and Europe. Immediately afterwards, however, it went on with passionate discussions.
Parliament's Speaker Tsveta Karayancheva called on MPs to act as a national team, more as a community and called for fewer sermons from the parliamentary rostrum.
The left-wing opposition immediately reacted to her words, saying they were inappropriate and that they were not to blame for the protests being held on January 11 which coincide with the opening of the rotating EU Presidency. The opposition Bulgarian Socialist Party (BSP) called for Prime Minister Borissov to be asked to come to Parliament to address MPs on security and the murders in recent days. The ruling majority voted to reject this move and explained that the Chief Prosecutor Sotir Tsatsarov and Interior Ministry management would attend a meeting of the Committee on Internal Security to address these issues.
BSP and Movement for Rights and Freedoms (MRF) reaffirmed that they would be in opposition. They said that during the EU Presidency, they would not remain silent and would continue criticising the government. GERB, a majority partner in the ruling coalition, has called for dedicated work and for achieving better results. United Patriots, a minority partner in the ruling coalition said the government was stable.
The opposition BSP confirmed that they would table its vote of no confidence in the government on January 17, based on the issue of corruption. The BSP will not be tabling the motion in tandem with the Movement for Rights and Freedoms (MRF), one of the reasongs being that they did not agree with the statement of made by the MRF founder and honorary chairman, Ahmed Dogan, who earlier said that no opposition party was ready to take over the governing of the country.
GERB said that the anti-corruption tasks had no alternative and were ready to debate the controversial texts in the anti-corruption law. Tomorrow, the parliament will discuss the President's veto on the anti-corruption law. It is expected to be rejected, as was already rejected by the parliamentary Legal Affairs Committee on 19th of January.