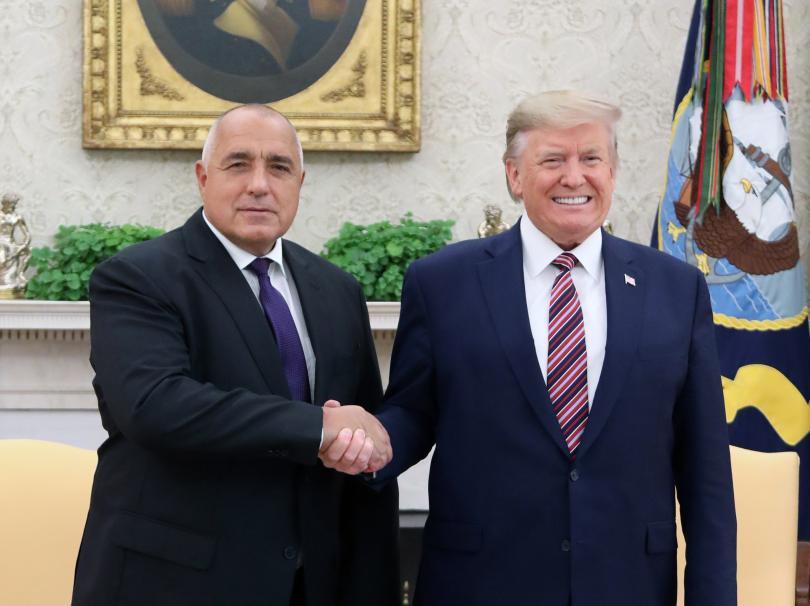 US visas for Bulgarians may be waived, Bulgaria's Prime Minister Boyko Borissov said after his two-hour meeting with US President Donald Trump at the White House. The two leaders spoke about Belene Nuclear Power Plant project, gas corridors across Bulgaria, military modernization and security in the Black Sea. Borissov and Trump signed a bilateral Strategic Co-operation Framework Document.
The meeting between Boyko Borissov and Donald Trump lasted two hours. The US President said that Bulgaria is a great US ally.
Donald Trump said he could visit Bulgaria, if invited him and promised that if invited, he would consider visiting Bulgaria.
Trump was impressed that Bulgaria would reach 3% of GDP in defence spending.
Donald Trump said that Bulgaria bought a lot of military equipment from the US. He added that the relations between the USA and Bulgaria have been very strong. "Great people. We have a lot of people from Bulgaria that are in this country, live in this country and become citizens of the Unite States, President Trump said. We are going to be talking about the visa programme as requested by the Bulgarian PM", he said.
After the meeting, Bulgarian Prime Minister Boyko Borissov said that Donald Trump would most likely visit Bulgaria and speak about visa waivers for Bulgarian citizens.
Boyko Borissov, Prime Minister of Bulgaria: I am convinced that visas will be dropped, I am convinced not only because we have done a lot on the subject, but the visa waiver with Canada is a very clear example that we do not create any problems, President Trump told told me he promised he would work very actively and give me an answer very soon.
The two leaders also discussed energy. Trump and Borisov will work to make Bulgaria an energy and gas distribution center in the Balkans.
Belene NPP was also among the topics.
Borissov and Trump also spoke about security in the Black Sea, and in a joint statement, the two leaders said they would strengthen their defensive and deterrent positions on NATO's Eastern flank, including the Black Sea.
Donald Trump and his team have praised Bulgaria for buying new F-16 fighter aircrafts. The two countries will continue and deepen their defence co-operation.
Boyko Borissov, Prime Minister of Bulgaria: F-16 aircrafts are considered by all to be the best, undoubtedly, and we are working together in many airports so that they can become applicable for them. The President encouraged the military to jointly produce armoured vehicles, and Avionams was very well prepared for the repairs of NATO helicopters.
The leaders also spoke about Russian influence in the Balkans. The United States supports Bulgaria's fight against malicious influence and the protection of its sovereignty.
The United States is also impressed by the fight against smuggling in Bulgaria.
They committed themselves to a regular strategic dialogue in 2020 and beyond.