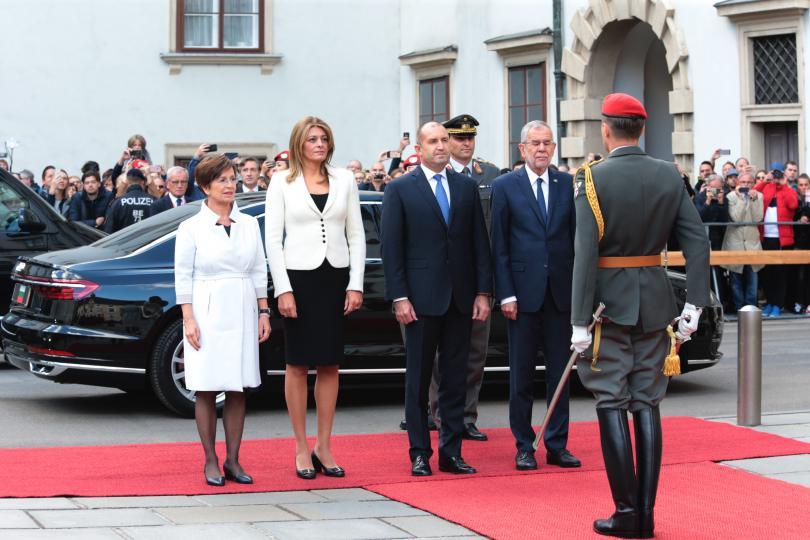 The Presidents of Bulgaria and Austria called for a revival of the Danube Strategy and more active cooperation between the countries located along the Danube.
Rumen Radev on October 4 is on an official visit to Austria at the invitation of his counterpart Alexander Van der Bellen. Marking 140 years since the establishment of diplomatic relations between Bulgaria and Austria, the two Presidents agree that bilateral relations at all levels are excellent.
The two presidents support the European integration of North Macedonia and Albania. Rumen Radev presented the Bulgarian position that our support is not unconditional and will depend on the resolution of controversial issues related to the our common history.
Alexander Van der Bellen: We all know that there are still some cultural and political issues between North Macedonia and Bulgaria and between North Macedonia and Greece. But this should not prevent the start of accession negotiations.
Rumen Radev and Alexander Van der Bellen commented that migrant pressure on Europe is increasing again.
Rumen Radev: I call for a faster European solution to the problems and one European answer.
Austria is one of the priority trade and economic partners of Bulgaria. Since 1996, Austrian investments have been € 4.5 billion. This places the alpine country in second place in terms of foreign direct investment in Bulgaria.
Later, President Radev also spoke with the Federal Chancellor, the President of the National Council and the President of the Constitutional Court in Austria.