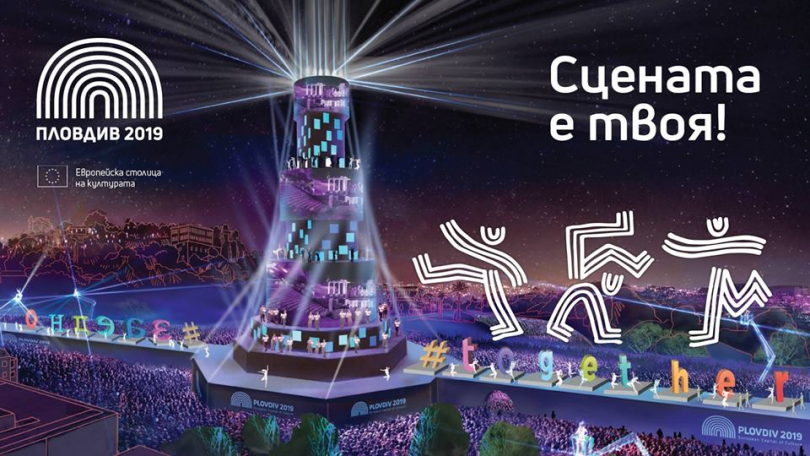 On Saturday, January 12th at 19:00, the Bulgarian National Television will broadcast the official opening of Plovdiv's status as European Capital of Culture for 2019.
Viewers of BNT1 and BNT4 will have the opportunity to enjoy the spectacular performance "We Are All Colours", combining music, dance, light effects and a lot of emotion. More than 1,500 participants from Bulgaria and abroad will recreate on the open stage a large and colourful metaphor of all the main themes of the programme 'Plovdiv 2019' and their relationships under the motto 'Together'.
The live broadcast of the Bulgarian National Television will be accompanied by a live comment by the presenters of BNT culture show, Alexandra Giuzeleva and Mihail Zaimov. It will start with the official ceremony for awarding the Mayor of Plovdiv with the Melina Mercury Award for the successful realisation of the "European Capital of Culture initiative". The honorary plaque will be presented by the EU Commissioner of the Digital Economy and Digital Society, Maryia Gabriel.
The magical sounds of the harp - a symbolic reference to the legend of Orpheus, which will be recreated on a unique laser harp by the Intro Quartet, will mark the beginning of a show. The famous Bulgarian musician Theodosii Spasov will perform the emblematic folk song " Prituri Se Planinata".
The idea behind the programme is to trace the millennial past of Plovdiv and to build a parallel between traditions and the future. In the parts of the show, which correspond to the four thematic platforms of the programme "Plovdiv - European Capital of Culture" - fuse, transform, revive, relax – include participants from Trakia Folk Songs and Dances ensemble, students from the National High School for stage and screen arts and over 200 mummers from across the region.