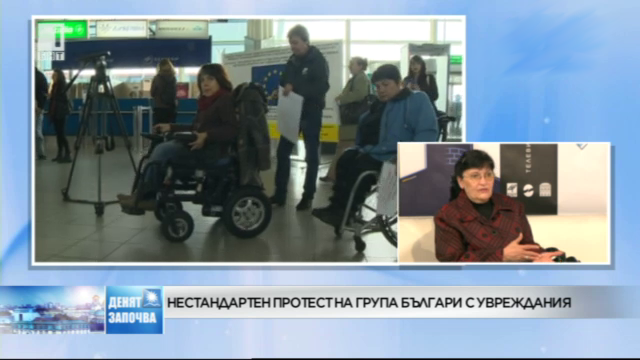 "We are going to where pavements at least have dropped kerbs." was the improvised slogan of the protest staged by disabled people with mobility difficulties. The protest was held at Terminal 2 at Sofia airport to symbolize the protesters' desire to emigrate. The aim was to once again remind the Bulgarian institutions that they need to provide better care for people with disabilities.
Kapka Panayotova from the 'Center for Independent Living' in Sofia was a guest in the studio of the BNT morning programme 'The Day Begins' to talk on the topic.
She hoped that as a result of the protest more people in Bulgaria had understood that the policies in the area of disabilities are exceptionally inhumane. She explained that the protesters were symbolically going to other countries where there are conditions adapted for people with disabilities.
The discussion focused on physical accessibility of disabled persons to pavements and public transport and other mobility issues. Kapka Panayotova noted that a lot of facilities had been put in place, some public transport vehicles were adapted for disabled people, but the paths to get to the vehicles were not. In her opinion, there was no single approach in ensuring access and mobility for disabled people. According to her, new constructions should take into account the needs of people with disabilities because it is more expensive to build a pavement and then to adapt it for disabilities rather than building it with a dropped kerb in the first place.
Kapka Panayotova explained that many attempts were made to address the issues to the institutions in Bulgaria, but remained unsuccessful. Therefore the NGO 'Center for Independent Living' recently submitted a petition to the European Parliament in relation to the accessibility to Sofia underground and the public transport.  She commented that in many but not in all underground stations in Sofia there were facilities for people with disabilities.