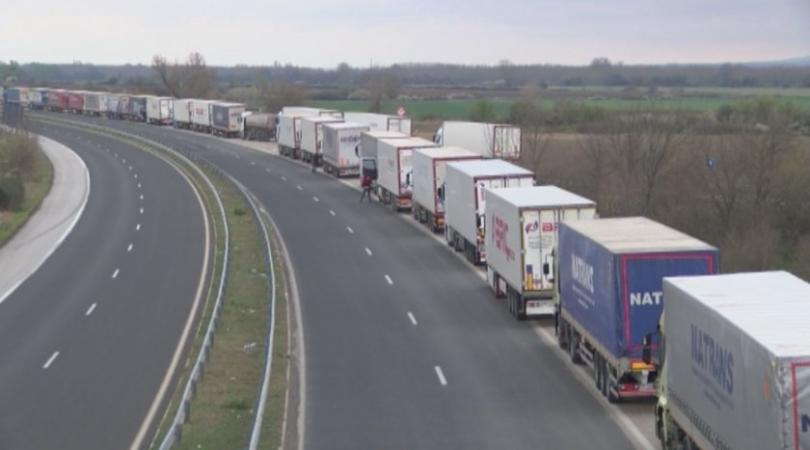 Anorder issued by the Minister of Health on March 25 temporarily prohibited the passage through Bulgaria of heavy goods vehicles travelling to Turkey, arriving from 67 different countries. Due to the procedure for disinfection of TIR lorries at Kapitan Andreevo border crossing point, the queue of lorries was 40 kilometres long today. The order was later revoked.
According to the Border Police Chief, Commissioner Svetlan Kichikov over 1200 heavy goods vehicles are between the Bulgarian-Turkish border. The main reason for this long queue is the inability to quickly disinfect and quarantine these heavy goods vehicles. The period for the quarantine is 14 days.
Chief Commissioner Svetlan Kichikov, Director of DG Border Police: The order has been cancelled because talks are currently under way between the Bulgarian and Turkish interior ministers, so let's see if this traffic can be eased, ie. to start faster acceptance of vehicles in our territory. Turkey has introduced various restrictions. There are definitely no restrictions on Turkish lorries, Bulgarian registration lorries and drivers, and a large part of the European countries. There are restrictions on travel to Turkey, the requirement being that lorries should undergo a 14-day quarantine period on the territory of Bulgaria.
Due to the difficult situation, the owners of road hauliers in Bulgaria organize to supply the most necessary to their drivers, namely water, food and disinfectants.
Vesselin Stoyanov, owner of a transport company: I think it is possible to find a solution very quickly how to disinfect these trucks and how to free up the green corridor and keep these goods passing, not the drivers standing for 2.3 days at the border and literally to be utterly exhausted. This way, we are totally disrupting the idea of green corridors and the free movement of consignments between different countries.
Nearly 2,000 Bulgarian lorries serve on the Europe-Turkey route, according to the road haulage industry. Many of them are now at different European borders, using the so-called green traffic corridors, which are provided to prevent stopping the flow of goods in a coronavirus situation.